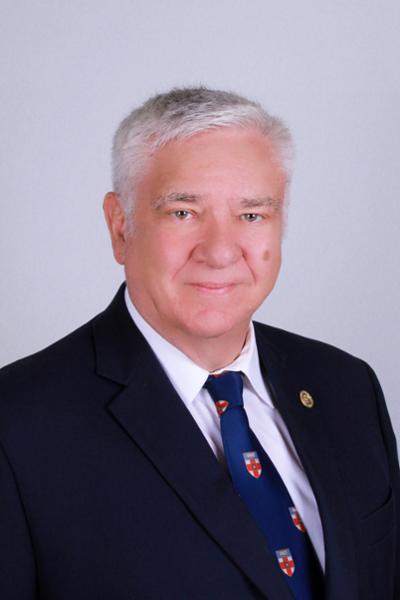 Contact details
Name:

Dr Robert Robertson

Position/Fellowship type:

Senior Research Fellow

Fellowship term:

01-Apr-2022 to 31-Jul-2025

Institute:

Email address:
---
Research Summary and Profile
Research interests:

Digitisation, Globalization & Development, Local Government

Regions:

Asia, Caribbean, North America

Summary of research interests and expertise:

Dr. Robertson is an educator and consultant based in Tampa, Florida. Dr. Robertson has more than twenty-five years of experience leading award-winning organizations in the public, private and not-for-profit sectors. He has served as a business faculty member, MBA Director, Dean of Business, Vice President of Academic Affairs and President of the community college system in the Bahamas. He has worked in Vietnam, Kazakhstan, Canada, the Caribbean, Europe and the United States.

Dr. Robertson has served as a Visiting Professor in the Faculty of Economics at the University of Ljubljana, Slovenia (2007-2020). In 2016, Dr. Robertson was named a Fulbright Specialist by the US Department of State; an Emerging Leader in the America's by Global Affairs Canada (2016, 2020); and, in 2022, a Senior Research Fellow with the School of Advanced Studies, University of London.

He holds a Doctorate in Management and Organization (University of Stirling, Scotland); Master of Studies in Environmental Law (Vermont Law School); Master of Public Administration (Dalhousie University, Canada); Post Graduate Diploma in International Management (University of London, England); Post Graduate Certificate in Conflict Resolution (Queen Margaret University, Scotland); Graduate Diploma in International Development (London School of Economics and Political Science, England); Executive Certificate, Innovation and Strategy (Massachusetts Institute of Technology); and, Executive Certificate, Leadership and Negotiation, Harvard University. He is a Rotary International Paul Harris Fellow.
Publication Details

Related publications/articles:

Date
Details
01-Oct-2022
The Use of Industry Recognized Certifications to Develop the Technical Skills Required to Rebuild the Bahamas After Hurricane Dorian and the Global Pandemic, Journal on Management

Journal articles

01-Sep-2022
Robertson, R. (2022) From Hurricanes to Pandemics: The Pivot to Online Education in the Bahamas" Commonwealth of Learning, Pan Commonwealth Conference X, Proceedings, Calgary, AB. September 2022
10-Jan-2022
The Use of Industry Recognized Certifications to Develop the Technical Skills Required to Rebuild the Bahamas After Hurricane Dorian and the Global Pandemic, Journal on Management

Journal articles

02-Jan-2022
Robertson, R. (2022) The Use of the Ombudsman Model to Improve Local Government in Canada: The Case of the City of Toronto, Florida Political Chronicle Journal, Florida Political Science Association, (Accepted, In Print).
01-Jan-2022
Robertson, R. and Aquino, C. (2022) Leadership in a Post Pandemic World: Diversity and Inclusion Challenges and The Need for Conflict Management Skills, in Hynes, R.; Aquino, C. and Hauer, J. Multidisciplinary Approach to Diversity and Inclusion in the COVID-19-Era Workplace, IGI Global Publishing (In Print).
01-Jan-2021
Robertson, R. (2021) Bridging the Skills Gap in the Bahamas: Perceptions of Employers, Journal on Management (Vol 15 Issue 3) December-February,2021, I-Manager
01-Jan-2021
Robertson, R. (2021) Bridging the Skills Gap in the Bahamas, Global Encyclopedia of Public Administration, Public Policy and Governance, Springer
01-Jan-2020
Robertson, R. and Darville, A. (2020) Responding to COVID-19 and Hurricane Dorian: Building Key Skills for the 21st Century Technical and Vocational Workforce in the Bahamas, Florida Political Chronicle Journal, Florida Political Science Association, (Vol. 27, n.2, pp. 14- 21).
01-Jan-2020
Robertson, R., (2020) Bridging the Technical and Vocational Skills Gap in the Bahamas: The Role of Gender Diversity in the Trades. In Aquino, C. and Rojas, R. (Eds.) Diversity and Inclusion in Latin America and Caribbean Workplaces, Springer Pub.
01-Jan-2018
Robertson, R., (2018) Training to Maintain a Globally Competitive Workforce: Tampa as a Case Study, Florida Political Chronicle Journal, Florida Political Science Association, (Vol.26, n.1, pp. 14-21).
01-Jan-2018
Robertson, R., (2018) Local Economic Development and the Skills Gap: Observations on the Case of Tampa, Florida; Journal of Higher Education, Skills and Work-Based Learning; Emerald Pub. (Vol. 8 Issue: 4, pp.451-468).
01-Jan-2017
Aquino, C. and Robertson, R. (Eds), (2017) Diversity and Inclusion in the Global Workplace: Aligning Initiatives with Strategic Business Goals, Springer Pub.

Relevant Events

Related events:

| Date | Details |
| --- | --- |
| | "From Hurricanes to Pandemics: The Pivot to Online Education in the Bahamas" Commonwealth of Learning, Pan Commonwealth Conference, Calgary, AB. September 2022 (Invited) |
| | "Dual Enrollment Digital Career Training in the Bahamas for a Post COVID Economy" INNOVATE 2022, Online Learning Consortium, Dallas, TX. April 2022 |
| | "Preparing the 21st Century Workforce" Sustainable Grand Bahama Conference: Diversifying and Expanding Our Economy, University of the Bahamas, Freeport, January, 2022. |
| | "Reimagining The Construction Industry: Virtual and Blended Professional Development Upskilling Opportunities" The Bahamas Engineers, Architects & Allied Professionals, July 2021 |
| | "Leadership Skills in the Maritime Sector- Post Pandemic" Bahamas Maritime Conference, Nassau, June 2021 |
| | "The Future of Work: Perspectives from The Bahamas" Fifth Annual Caribbean Technical Vocational Education and Training Conference, University of the West Indies, May 2021 |
| | "The Future of Work Post COVID" Chesterfield Chamber of Commerce (Greater Richmond, VA) April 2021 |
| | "Managing in Times of Turbulence: From Hurricanes to COVID-19" Florida Society of Human Resource Management Annual Conference, Orlando, FL, September 2020 |
| | "Building Local Skills to Compete in a Global Economy: The Use of a Formal Apprenticeship Program in the Bahamas", The Caribbean Academy of Science, Annual Conference, Kingston, Jamaica, November 2018. |
| | "Cross Cultural Competencies in the Maritime Industry", Bahamas Maritime Conference, Nassau, Bahamas, October 2018. |
Back to top