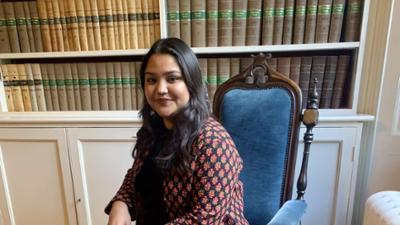 Contact details
Name:

Mrs Urvi Khaitan

Position/Fellowship type:

RHS Marshall Fellow 2022-23

Fellowship term:

2022 to 2023

Institute:

Email address:

Website:
---
Research Summary and Profile
Research interests:

History

Summary of research interests and expertise:

My thesis, titled 'Women and Work in the Indian Economy: Empire, Famine, and Labour during the Second World War' explores how women at the margins of colonial Indian society engaged with and experienced paid work.

Project summary relevant to Fellowship:

I investigate the ways in which lower-caste and Adivasi (indigenous) women in late colonial India negotiated a turbulent wartime economy in the eastern provinces of Bengal, Bihar, and Assam during the Second World War. Constituting the bulk of the subcontinent's female population, but peripheralized historically and historiographically not only by their gender but also by their caste, class, and location, non-elite women bore the brunt of economic shocks brought about by the war and the 1943 Bengal Famine. Economic displacement exacerbated precarity and intensified the intimate relationship between questions of work and questions of survival.

While this thesis can be read as contributing to the scholarship globalizing and recovering marginalized histories of the Second World War, this is primarily a history of women and work. I undertake a cross-sectoral analysis of women's labour in urban and rural, and formal and informal contexts through three case studies—on women's work in coal mines and their vulnerability to changes in colonial labour legislation; in the unregulated and informal Labour Corps where women worked for the Allied war machine in military labour and were coerced into prostitution; and women's experiences of work, wellbeing, and contributions to family sustenance in tea plantations, the largest formal-sector employer of women in India.
Back to top