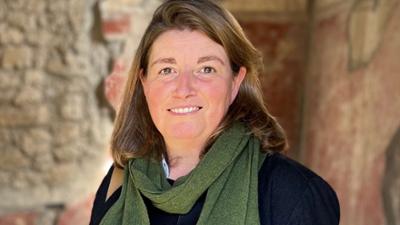 Contact details
Name:

Dr Sophie Hay

Position/Fellowship type:

Non-stipendiary Research Fellow

Fellowship term:

01-Aug-2022 to 31-Jul-2024

Institute:

Email address:

Website:
---
Research Summary and Profile
Research interests:

Classics

Summary of research interests and expertise:

Dr Sophie Hay, FSA was fortunate enough to start her archaeological career working in one of the most famous archaeological sites in the world: Pompeii. She worked for the British School at Rome on Prof. Andrew Wallace-Hadrill's 'Insula I.9 Pompeii Project' that sought to understand daily life in a block of Roman houses through excavation, archival research, and in particular studying the standing buildings that became the subject of her doctoral thesis.

As a recent Post-doctoral Research Associate at the University of Cambridge she collaborated with the Cambridge School Classics Project bringing the stories unearthed through her excavations in Pompeii of a Roman bar into the classroom by providing teaching materials for a history course accompanied by an extraordinary narrative of the adventures of the bar's owner, Sextus Pompeius Amarantus.

Sophie's current research shifts her focus from Roman Pompeii to the 250 years of excavation of the site. The leading protagonists are invariably men but less publicly celebrated are the significant contributions made by women. Sophie's book aims to rectify this by examining the events in the lives of three prominent women that led them to undertake scholarly work in Pompeii and by exploring their accomplishments that span from the early 19th century to the present day. She is also co-authoring a children's fiction book set in Pompeii.

As part of her enthusiasm to disseminate information to a wider audience about Pompeii, Sophie has appeared in and consulted on numerous television documentaries, been interviewed on a variety of podcasts, written articles for popular history magazines, and is a member of the official social media team of Pompeii.
Back to top