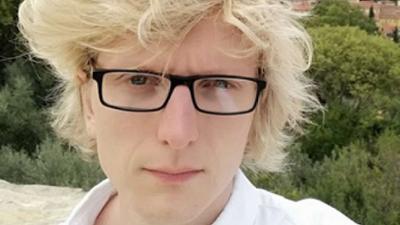 Contact details
Name:

John-Mark Philo

Position/Fellowship type:

Frances Yates Long-Term Research Fellow

Institute:

Email address:

Website:
---
Research Summary and Profile
Research interests:

Early Modern

Summary of research interests and expertise:

John-Mark, originally from Glasgow, completed his studies at Oxford and comes to the Warburg Institute from the Villa I Tatti, where he was researching the English and Scottish scholars, poets, and antiquaries who travelled to the libraries of Renaissance Italy. He is especially interested in early-modern engagements with the classics, from vernacular adaptations of Greek plays to the revival of classical debates over the status and rights of women. This means that he is typically to be found in libraries and archives, examining manuscripts and correspondence and trying his best to decipher early-modern marginalia.

Profile

During his time at the Warburg, John-Mark will be preparing a critical edition of Elizabeth I's translation of Tacitus, recently identified at Lambeth Palace Library. The re-emergence of the queen's translation has important implications for how we understand the reception of Tacitus in early-modern England, as well as shining new light on the queen's literary and cultural pursuits more generally. The project aims to reconstruct Elizabeth's approach to translating Roman history, comparing the queen's Tacitus with her translations of Cicero, Boethius, Horace, and Seneca. More broadly, the project will revisit some questions concerning Tacitus's reception in a Pan-European context. How, for example, does the queen's interpretation of Tacitus sit with the politicized readings of the historian which became so popular on the continent? Was the monarch's translation of the Annales something that could have happened in other European courts, or was there something special about this moment in Tudor England? In 1609, for instance, Isaac Casaubon warned Henry IV of France that there could nothing more harmful to a prince than reading the Annales. The queen's translation represents a key moment in the English reception of Tacitus, and, with the critical edition, he hopes to do it justice.

Publications

Monograph

'An Ocean Untouched and Untried': The Tudor Translations of Livy (Oxford University Press, 2020).

Articles

'The Printer's Copy of Henry Savile's Tacitus', Erudition and the Republic of Letters (forthcoming)

'Tacitus, Hector Boece, and the Writing of Scottish History', Scottish Literary Review (2020) 12.2: 111–136

'Elizabeth I's Translation of Tacitus: Lambeth Palace Library MS 683', Review of English Studies (2020) 71 (298): 44–73.

'English and Scottish Scholars at the Library of Gian Vincenzo Pinelli', Renaissance and Reformation (2019) 42.2: 51–80.

'John Bellenden's Livy and Les Decades of Pierre Bersuire: The French in Bellenden's Scots', Translation and Literature (2019) 28.1: 1–27.

'Henry Savile's Tacitus in Italy', Renaissance Studies (2018) 32.5: 687–707.

'John Bellenden's Livy and the Tools of Translation', Scottish Literary Review (2017) 9.1: 19–39.

'Shakespeare's Macbeth and Livy's Legendary Rome', Review of English Studies (2016) 67 (279): 250-274.

'Tudor Humanists, London Printers, and the Status of Women: The Struggle over Livy in the English Querelle des Femmes', Renaissance Quarterly (2016) 69.1: 40–79.

Comment Pieces

'Royally Adorned: The discovery of a Translation of Tacitus by Elizabeth I', TLS, no. 6087 (Nov. 2019)

'Mary Beard is Right, Roman Britain was multi-ethnic – so why does this upset people so much?', The Conversation (2017), available online

'Greece is No Place for Refuge', co-authored with Dr Ludek Stavinoha, Politico (2016), available online.

'The Camps of Chios: Greece's Ongoing Refugee Crisis', Open Democracy (2016), available online.
Back to top