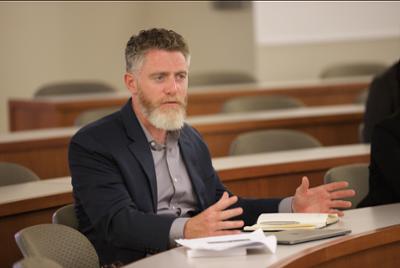 Contact details
Name:

Dr Daniel Aguirre

Qualifications:

PhD International Law

Position/Fellowship type:

Associate Research Fellow

Fellowship term:

07-Nov-2023

Institute:

Home institution:

Email address:
---
Research Summary and Profile
Research interests:

Globalization & Development, Human rights, International Law, International Relations, Law

Summary of research interests and expertise:

Dr. Daniel Aguirre is an a Senior Lecturer in Law at Roehampton University in London. He is an expert on business and human rights and specializes in conflict areas and on internaitonal development. He has taught at universities in Canada, the UK, Italy, China, Thailand and Myanmar. Dr. Aguirre has worked extensively with Non-Governmental Organisations (NGOs), training State officials, legal practitioners, human rights and environmental activists on the rule of law, implementation of human rights law, strategic litigation, and access to justice. He was the legal advisor for the International Commission of Jurists based in Yangon, Myanmar from December 2013 to August 2017 and implemented programs on access to justice and business and human rights. He continues to work with NGOs and acts as a consultant on human rights issues internationally.

Project summary relevant to Fellowship:

Dr. Aguirre's primary aim as an Associate Fellow is to develop a Commonwealth Responsible Business program focusing on business and human rights and environmental protection. The Commonwealth can be a leader in international cooperation when it recognizes common historical, political, legal, economic, and social responsibilities across borders. It can be a model for sustainable development that advances the rights of its people and protects the natural environment while supporting member states to protect human rights and to promote sustainable development through international cooperation. The ICWS is uniquely positioned to provide high level events and conferences, as well as workshops and trainings with civil society, legal practitioners, diplomats, and government officials and various ministries across the Commonwealth.
Back to top