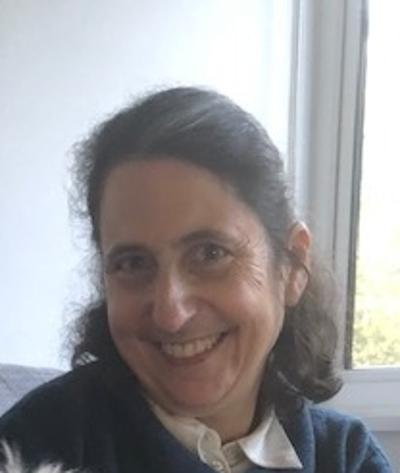 Contact details
Name:

Dr Karen Attar

Qualifications:

B.A. Hons, Class I, Sydney: Ph.D. (Cantab.); MA LIS with distinction (UCL)

Position/Fellowship type:

Research Fellow

Fellowship term:

01-May-2017 to 30-Apr-2020

Institute:

Email address:
---
Research Summary and Profile
Research interests:

Library

Summary of research interests and expertise:

library history, especially of 19th-century private and institutional libraries; bibliography.


Project summary relevant to Fellowship:

At present I am editing the official wartime diary of the University of London Library: a document kept from August 1939 until 1943, invaluable as a snapshot of daily institutional life and for the insight it gives into the Ministry of Information, which the Library served at this time.

I continue to work on the library of the Victorian mathematician and mathematical historian Augustus De Morgan.
Publication Details

Related publications/articles:

Date
Details
31-Dec-2022
Augustus De Morgan's Incunabula Contextualised

Chapters

In: Spotlights on Incunabula: Production, Reception, Collection, ed. by Anette Hagan (Leiden: Brill, forthcoming 2023)

28-Oct-2022
"Rare Book Librarianship and Historical Bibliography"

Chapters

in British Librarianship and Information Work 2016-20, edited by J.H. Bowman ([London]: J.H. Bowman, 2022), pp. 137-56

01-Aug-2022
Review of: Bibliotheken in Grossbritannien: Beiträge zur Bibliotheksgeschichte, by Gernot U. Gabel

Review

Library & Information History, 38 (2022), 157-8

01-Aug-2022
Review of: 'Ein Reichtum, den kein Mass bestimmen kann': Die Sondersammlungen der Universitätsbibliothek Augsburg, ed. by Ulrich Hohoff, Peter Stoll and Andreas Kosuch

Review

Library & Information History, 38 (2022), 160-1.

22-Jul-2022
'More Product, Less Process' (MPLP): An Early Printed Book Project'

Journal articles

Journal of Librarianship and Information Science, 54 (2022), 532-40.

01-Jun-2022
Review of: 'Lives in Book History: Changing Contours of Research over Forty Years', ed. by Robin Myers, Michael Harris and Giles Mandelbrote

Review

The Book Collector, 71 (summer 2022), 366-7

15-Dec-2021
Why Cataloguing is Cool

Articles

Journal of the Australian Library and Information Association, 70(4), forthcoming Dec. 2021

30-Sep-2021
The London Rare Books School

Chapters

In: Teaching the History of the Book, ed. by Emily Todd and Matteo Pangallo (Modern Languages Association, forthcoming 2021)

01-Sep-2021
Autism, Librarianship and their Fit

Journal articles

GAP (Good Autism Practice), 22 (2021), 32-9

30-Apr-2020
Augustus De Morgan (1806-71), his Reading and his Library

Chapters

 In Mary Hammond (ed.), The Edinburgh History of Reading, vol. [2]: Modern Readers (Edinburgh: Edinburgh University Press, 2020), pp. 62-82

05-Dec-2019
Review of: Provenance Research in Book History: A Handbook, new edn, by David Pearson

Review

Library & Information History, 35 (2019), 182-3

02-Sep-2019
Review of: The Book in Britain: A Historical Introduction, by Daniel Allington et al.

Review

The Book Collector, 68 (2019), 578-80

08-Aug-2019
Review of: Through the Pages: 250 Years of the Leeds Library, ed. by Ruth Robbins and Christopher Webster

Review

Library & Information History, 35 (2019), 123-4

14-Jun-2019
'The Earliest Books at the University of London: A Supplement'

Journal articles

 Library & Information History, 35 (2019), 40-43

15-May-2019
Review of: The Dictionary of the Book: A Glossary for Book Collectors, Booksellers, Librarians, and Others, by sidney E. Berger

Review

In: 'Library & Information History', 34 (2018), 236-7

15-Feb-2019
Review of: Catalogue of the Pepys Library at Magdalene College Cambridge. Supplementary Series, Volume II. Collections I: Maritime, Religious, Political. Edited by C.S. Knighton

Review

'The Book Collector', 68 (spring 2019), pp. 183-5

15-Feb-2019
Review of: Die Zukunft des Sammelns an wissenschaftlichen Bibliotheken, ed. by Michael Knoche

Review

In: 'Library & Information History', 34 (2018), 186-7

12-Sep-2018
'Ossified Collections: The Past Encapsulated in British Institutions Today'

Chapters

 In: Collecting the Past: British Collectors and their Collections from the 18th to the 20th Centuries, ed. by Toby Burrows and Cynthia Johnston (London: Routledge, 2019), pp. 113-38

22-May-2018
'Rare Book and Special Collections in Overview: Producing a National Directory'

Articles

 RBM: A Journal of Rare Books, Manuscripts and Cultural Heritage, 19(1) (spring 2018), 14-27.

13-Mar-2018
Folios in Context: Collecting Shakespeare at the University of London

Journal articles

The Library, 19 (2018), 39-62

01-Sep-2017
Review of: Story Time: Essays on American Children's Literature from the Betsy Beinecke Collection, ed. by Timothy Young

Review

The Library, 18(3), 2017, 357-9

01-May-2017
Book review: The University of Glasgow Library: Friendly Shelves, edited by Peter V. Davies et al.

Review

Library & Information History, 33 (2017), 147-8
 

28-Feb-2017
'Rare Book Librarianship and Historical Bibliography'

Chapters

In: British Librarianship and Information Work, 2011-2015, ed. by J.H. Bowman (London: J.H. Bowman, 2017), pp. 216-38

01-Feb-2017
Book review: Shakespeare's First Folio: Four Centuries of an Iconic Book, by Emma Smith

Review

Library & Information History, 33 (2017), 70-1

31-Aug-2016
Review of: A History of Modern Librarianship: Constructing the Heritage of Western Cultures, ed. by Pamela Spence Richards, Wayne A. Wiegand, and Marja Dalbello

Review

Library & Information History, 32 (2016), 229-30

01-Aug-2016
'National Service: The University of London Library during the Second World War'

Journal articles

Historical Research

, 89 (2016), 550-66.
20-Jun-2016
Review of: Andrea Immel and Brian Alderson, Tommy Thumb's Pretty Song-Book

Review

Review of: Tommy Thumb's Pretty Song-Book: The First Collection of Nursery Rhymes. A Facsimile Edition with a History and Annotations. By ANDREA IMMEL and BRIAN ALDERSON. In: The Library 17 (2) (2016), pp. 193-194

27-May-2016
Directory of Rare Book and Special Collections in the United Kingdom and Republic of Ireland, 3rd edn

Edited Book

London: Facet Publishing, 2016

01-Mar-2016
'The University of London's Earliest Books (1838): 185 Volumes Presented by Nathaniel Vye, Esq.'

Articles

Library & Information History, 32 (2016), 100-11

13-Feb-2015
'Victorian Readers and their Library Records Today'

Chapters

In: Matthew Bradley and Juliet John (ed.), Reading and the Victorians (Farnham: Ashgate, 2015), pp. 99-110

30-Jan-2015
Review of: Historical Dictionary of Librarianship, by Mary Ellen Quinn

Review

Library & Information History, 31 (2015), 59-60

01-Jan-2015
'Books in the Library'

Chapters

In: The Cambridge Companion to the History of the Book, ed. by Leslie Howsam (Cambridge: Cambridge University Press, 2015), pp. 17-35

22-Dec-2014
'London Pride in Context: Treasures and the Library Treasures Volume in Britain Today'

Articles

IFLA Journal, 40 (2014), 244-53

13-Nov-2014
'The Establishment of a First-Class University Library": The Beginnings of the University of London Library'

Articles

History of Universities, 28 (2014), 44-65

17-Mar-2014
Review of: Robert J. Kirkpatrick, From the Penny Dreadful to the Ha-Penny Dreadfuller ...

Review

The Library, 7th ser. 15 (2014), 89-91

07-Oct-2013
Review of: A Bibliographical Description of Books and Pamphlets of American Verse ..., by Roger E. Stoddard

Review

The Library, 7th ser. 14 (2013), 355-7

07-Oct-2013
'Making Treasures Pay? Benefits of the Library Treasures Volume Considered'

Journal articles

SCONUL Focus, 58 (2013), 56-61

01-Jun-2013
'Modern Special Collections Cataloguing: A University of London Case Study'

Journal articles

Journal of Librarianship and Information Science, 45 (2013), 168-76

05-Mar-2013
Review of: A Bibliography of Unauthorised American Editions of The Tale of Peter Rabbit by Beatrix Potter 1904–1980, by John R. Turner (Stroud: Ian Hodgkins and Co., 2012)

Review

The Library, 7th ser. 14 (2013), 99-100

01-Jan-2013
Review of: The Library and Archive Collections at the University of Aberdeen, ed. by Iain Beavan, Peter Davidson and Jane Stevenson

Review

Library & Information History, 29 (2013), 59-60

01-Jan-2012
Senate House Library, University of London

Edited Book

Ed. with Christopher Pressler (London: Scala, 2012)

01-Jan-2012
'Senate House Library: The First Hundred Years'

Chapters

In: Christopher Pressler and Karen Attar (ed.), Senate House Library, University of London (London: Scala, 2012), pp. x-xxi

01-Jan-2012
'The Cowell Manuscript, or, The First Baconian: MS294 at the University of London'

Journal articles

Shakespeare Survey, 65 (2012), 323-36

01-Jan-2012
'Rare Book Librarianship and Historical Bibliography'

Chapters

In: J.H. Bowman (ed.), British Librarianship and Information Work 2006-2010 (London: J.H. Bowman, 2012), pp. 184-206

01-Jan-2012
'Illustration, Book History and Research Facilitation: Some Observations'

Journal articles

Art Libraries Journal, 37(3) (2012), 8-14

01-Jan-2011
'The M.S. Anderson Collection of Writings on Russia Printed Between 1525 and 1917: An Introduction'

Journal articles

Solanus, 22 (2011), 63-78

01-Jan-2011
'J. Meriton and C. Dumontet (ed.), Small Books for the Common Man'

Review

In: The Library, 7th ser. 12 (2011), 300-302

01-Jan-2011
J.H. Bowman (ed.), A Critical Edition of the Private Diaries of Robert Proctor: The Life of a Librarian at the British Museum

Review

Library & Information History, 27 (2011), 52-3

01-Jan-2010
M. Bland, A Guide to Early Printed Books and Manuscripts

Review

Library & Information History, 26 (2010), 289-90

01-Jan-2010
various entries

Articles

In Henry Woudhuysen and Michael Suarez (ed.), Oxford Companion to the Book (Oxford: Oxford University Press, 2010)

01-Jan-2010
G, Mandelbrote and B. Taylor (ed.), 'Libraries within the Library: The Origins of the British Library's Printed Collections '

Review

The Library, 7th ser. 11 (2010), 358-9

01-Jan-2010
'Russia Revealed, or, Special Collection Promotion: A Senate House Library Case Study'

Journal articles

SCONUL Focus, 50 (2010), 79-83

01-Jan-2009
'Incunabula at Senate House Library: Growth of a Collection'

Journal articles

Library & Information History, 25 (2009), 97-116

01-Jan-2009
D. McKitterick (ed.), The Cambridge History of the Book in Britain, vol. 6: 1830-1914

Review

Library & Information History, 25 (2009), 282-3

01-Jan-2008
A. Black and P. Hoare (eds), The Cambridge History of Libraries in Britain and Ireland, vol. 3: 1850-2000.

Review

Library History, 24 (2008), 93-4

01-Jan-2008
M.M. Gatch, The Library of Leander van Ess and the earliest American Collectors of Reformation Pamphlets

Review

Library History, 24 (2008), 94-6

01-Jan-2008
'What, How and Why: Accessing Incunabula at Senate House Library, University of London'

Journal articles

Alexandria, 20 (2008), 105-20

01-Jan-2007
'From Private to Public: The Durning-Lawrence Library at the University Of London'

Journal articles

The Private Library, 5th ser. 10 (2007), 137-56

01-Jan-2007
'Rare Book Librarianship and Historical Bibliography'

Chapters

In J.H. Bowman (ed.), British Librarianship and Information Work, 2001-2005, (Aldershot: Ashgate, 2007), pp. 149-172

01-Jan-2006
'Why Appoint Professionals? A Student Cataloguing Project'

Journal articles

Journal of Librarianship and Information Science, 38 (2006), 173-85

01-Jan-2005
'Douglas Foskett's Uzanne Collection'

Journal articles

The Private Library, 5th ser. 8 (2005), 111-26

01-Jan-2005
'Provost George Thackeray of King's College Cambridge and his Books: a New Look'

Journal articles

The Book Collector, 54 (2005), 389-407

01-Jan-2004
'Sir Edwin Durning-Lawrence: A Baconian and his Books'

Journal articles

The Library, 7th ser. 5 (2004), 294-315

01-Jan-2003
'Durning-Lawrence Online: Benefits of a Retrospective Catalogue Conversion Project'

Journal articles

Libri, 53 (2003), 142-8

01-Jan-2002
'A Forgotten Donor to King's College Cambridge: John Heath'

Journal articles

Transactions of the Cambridge Bibliographical Society, 12:3 (2002), 293-312

01-Jan-2002
'More than a Mythologist: Jacob Bryant as Book Collector'

Journal articles

The Library, 7th ser. 3 (2002), 351-66

01-Jan-2002
'Jane Austen at King's College Cambridge'

Journal articles

The Book Collector, 51 (2002), 197-221

01-Jan-2002
'The Practice of Bliss'

Journal articles

Cataloging & Classification Quarterly, 34(4) (2002), 47-65

01-Jan-2001
'Stefan Heym's King David Report: a Microcosmic Precursor'

Journal articles

Neophilologus, 85 (2001), 273-86

01-Jan-2000
'The Archive and the Artist: the Stefan Heym Archive Revisited'

Journal articles

German Life and Letters, N.S. 53 (2000), 73-88

01-Jan-2000
'The Application of the Bliss Bibliographic Classification in Cambridge College Libraries'

Journal articles

New Review of Academic Librarianship, 6 (2000), 35-49

Publications available on SAS-space:

Relevant Events

Related events:

Date
Details
28-Nov-2022
Owners Writing in Books: Augustus De Morgan and Others

Conference paper, "Embellished": conference of the Bibliographical Society of Australia and New Zealand, State Library of New South Wales, Sydney, 28-29 Nov. 2022 (28 Nov. 2022)

18-Mar-2021
The Reader in the Book: Books, Reading and Libraries in Fiction

Academic Organiser, conference hosted by the Institute of English Studies, 18-26 Mar. 2021.

22-Jun-2019
''An Unsung Heroine: Miss Muriel Sinton Quinn'

Conference paper, 'Finding the Women in Library & Information History', CILIP LIHG Conference, John Rylands Library, Manchester, 22 June 2019.

24-Jan-2019
'Unsung Powers: Women who shaped Senate House Library"

 Friends of Senate House Library annual lecture, 24 Jan. 2019

26-Oct-2018
'Women and the Book'

 Academic organiser of conference, 'Women and the Book', Institute of English Studies, London, 26 Oct. 2018

21-Sep-2018
Clouds with Silver Linings: Wartime Donations to the University of London Library

 Conference paper: 'Books, Readers, and Reading: Celebrating 250 Years of the Leeds Library', Leeds, 20-22 Sept. 2018

21-Mar-2018
Herbert Somerton Foxwell and the Goldsmiths' Company's Library of Economic Literature

 Seminar paper, Goldsmiths, University of London, 21 March 2018

14-Dec-2017
'Rare Book and Special Collections: A British Perspective'

 Lecture to the Australian Library and Information Association, State Library of New South Wales, Sydney, 14 Dec. 2017

02-Jun-2017
'Collecting Elzeviers'

Conference paper (invited speaker): 'The Elzieviers and their Contemporaries: Reading, Writing and Selling Scholarship', Insititute of English Studies, University of London, 2 June 2017

 

 

 

 

 

18-Oct-2016
'A Tale of Special Collections: The Directory of Rare Book and Special Collections in the UK and Republic of Ireland, 3rd Edition

Lecture to the Aberystwyth Bibliographical Group, Aberystwyth, 18 Oct. 2016

15-Apr-2016
'Mummifying Collections: An Institutional Overview'

Conference paper (invited speaker), 'Collectors, Collections and Collecting in Britain: From Sloane to Chester Beatty', Institute of English Studies, University of London, 15 Apr. 2016

24-Mar-2016
'Rare Books and Special Collections: The Scottish Scene'

Lecture to the Edinburgh Bibliographical Society, Edinburgh, 24 Mar. 2016

15-Dec-2015
'Collecting Shakespeare at the University of London'

Lecture to the Bibliogaphical Society, 15 Dec. 2015

13-Nov-2015
'Collecting Magic: Harry Price et al.'

Symposium paper (invited speaker), 'The Arcane and the Archive', Senate House Library and the Warburg Institute, University of London, 13 Nov. 2015

02-Sep-2015
'Discovering Collections for the Directory'

Keynote address, Rare Books & Special Collections Group Annual Study Conerence, London, 2 Sept. 2015.

23-Jan-2015
'Piety at the Godless Institution: The Earliest Books at the University of London Library'

Conference paper, 'Community Libraries: Connecting Readers in the Atlantic World, c.1650-c.1850', Dr Williams's Library and Queen Mary University of London, 22-24 Jan. 2015

25-Nov-2014
'Our Island's Printed Heritage: Special Collections in the British Isles Today'

Senate House Library Friends annual lecture, 25 Nov. 2014

23-Jul-2014
'"The Show Must Go On": The University of London Library's Book Acquisitions, 1939-1945'

Conference paper, Print Networks Conference, Oxford, 22-23 July 2014

09-Jul-2014
'Trash, Treasure or Trashy Treasure at the Institutional Library'

Conference paper (guest speaker),6th annual conference of the Victorian Popular Fiction Association, 'Victorian Treasures and Trash', Institute of English Studies, University of London, 8-10 July 2014

04-Jul-2014
'The University of London Library during the Great War'

Conference paper, 83rd Anglo-American Conference of Historians, 'The Great War at Home', Institute of Historical Research, University of London, 3-4 July 2014

23-Nov-2013
'A Straitened Citizen: The Legacy of Herbert Somerton Foxwell'

Conference paper, 'Blackburn's "Worthy Citizen": The Philanthropic Legacy of R.E. Hart', Institute of English Studies, University of London, 23 Nov. 2013

23-Jul-2013
Bookish Delights: Selecting Russian and English Treasures

Conference paper, 4th international conference, 'Language, Culture and Society in Russian/English Studies' conference, Institute of English Studies and Russian Academy of Sciences et al., London, 22-23 July 2013.

01-Jul-2013
The History of Libraries from the Middle Ages to the Present

Course convener and tutor. London Rare Books School. July 1-5, 2013.

16-Mar-2013
'A Writer and his Library: Augustus De Morgan'

Conference paper, 'Writers and their Libraries: an International Conference, Institute of English Studies, University of London, 15-16 March 2013

01-Jan-2012
'The University of London Library during the Second World War'

Seminar paper, History of Libraries Seminar (Institute of English Studies / Institute of Historical Research / CILIP Library & Information History Group), 1 May 2012

01-Jan-2012
"The Collections of Senate House Library"

Lecture, London Rare Books School (25 June and 2 July 2012)

01-Jan-2012
The Origins of the University of London Library

Conference paper, "Buildings, Books, and Blackboards: Intersecting Narratives", ANZHES, MIV and Australian Library Forum conference, RMIT, Melbourne, Australia, 28 Nov. - 1 Dec. 2012

01-Jan-2011
'FULL and SHeLF: One Library's Experience of Friends' Institutions'

'Hard Times', Historic Libraries Forum annual meeting, London, 15 Nov. 2011

01-Jan-2010
'Views of Culture and Society: the M. S. Anderson Collection of [Western] Writings about Russia, 1525–1917'

Conference paper, 'Language, Culture and Society in Russian/English Studies' conference, Institute of English Studies and Russian Academy of Sciences et al., London, 20 July 2010

01-Jan-2009
'Augustus De Morgan: his Library, his Reading, and the Records'

Conference paper, 'Reading and the Age of Gladstone' conference, St Deiniol's, Hawarden, 23 Jan. 2009

01-Jan-2008
'Notes in Books and Elsewhere: the Senate House Library Experience'

Conference paper, 'Evidence of Reading, Reading the Evidence', IES conference, London, 21 July 2008

01-Jan-1900
Reviews Editor and member of editorial board, Library & Information History

2008-
Back to top