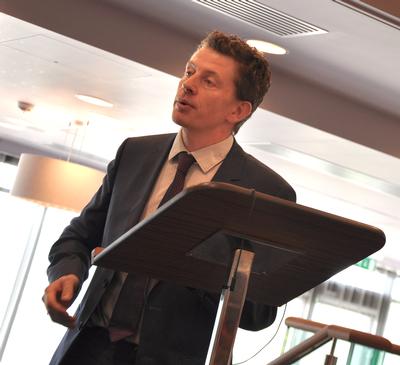 Contact details
Name:

Dr Andrew Nash

Position:

Reader in Book History and Director of the London Rare Books School

Institute:

Email address:
---
Research Summary and Profile
Research interests:

English Literature, History of the book, Manuscript studies

Regions:

England, Scotland, United Kingdom

Summary of research interests and expertise:

History of the book since 1750; history of publishing; history of authorship; literary and publishing archives; modern manuscripts; the publishing history of the novel in the nineteenth and twentieth centuries.

Victorian literature, especially Victorian popular fiction; the 1890s; the sea story.

Twentieth-century literature, especially inter-war fiction.

Scottish literature since 1750, especially J.M. Barrie; Robert Louis Stevenson; Hugh MacDiarmid and the Scottish literary renaissance; Muriel Spark; the history of Scottish publishing.  
Publication Details

Related publications/articles:

Date
Details
01-Jun-2022
The Kailyard Novelists

'The Kailyard Novelists', in Sheila Kidd, Caroline McCracken-Flesher and Kenneth McNeil (eds), The International Companion to Nineteenth-Century Scottish Literature (Glasgow: Association for Scottish Literary Studies, 2022), 180-7

08-Jul-2021
The Doppelgänger Writes Back: J.M. Barrie's 'The Body in the Black Box'

Articles

The Doppelgänger Writes Back: J.M. Barrie's 'The Body in the Black Box', Victorian Popular Fictions Journal, 3.1 (Spring, 2021), 55-67

01-May-2020
Smugglers, Husbands, and Doppelgängers: Barrie and <em>Home Chimes</em>

Articles

Smugglers, Husbands, and Doppelgängers: Barrie and Home Chimes, Anon: Journal of the J.M. Barrie Literary Society, 3 (2020), 152-172

16-Sep-2019
'Not to everybody's palate': Advertising <em>Proust</em> and <em>More Pricks Than Kicks</em>

Articles

'"Not to everybody's palate": Advertising Proust and More Pricks Than Kicks', Journal of Beckett Studies, 28:2 (2019), 129-45.

31-May-2019
The Cambridge History of the Book in Britain, Vol. 7: the Twentieth Century and Beyond

Edited Book

 Andrew Nash, Claire Squires and Ian Willison (eds), The Cambridge History of the Book in Britain, Vol. 7: the Twentieth Century and Beyond (Cambridge: Cambridge University Press, 2019)

31-May-2019
Reading and Ownership

Chapters

'Reading and Ownership', in Andrew Nash, Claire Squires and Ian Willison (eds), The Cambridge History of the Book in Britain, Vol. 7: the Twentieth Century and Beyond (Cambridge: Cambridge University Press, 2019), pp. 231-264.

31-May-2019
Authorship

Chapters

 'Authorship', in Andrew Nash, Claire Squires and Ian Willison (eds), The Cambridge History of the Book in Britain, Vol. 7: the Twentieth Century and Beyond (Cambridge: Cambridge University Press, 2019), pp. 99-128.

31-May-2019
Introduction

Chapters

 'Introduction', in Andrew Nash, Claire Squires and Ian Willison (eds), The Cambridge History of the Book in Britain, Vol. 7: the Twentieth Century and Beyond (Cambridge: Cambridge University Press, 2019), pp. 1-34. 

31-May-2019
Literature

Chapters

Andrew Nash and Jane Potter, 'Literature', in Andrew Nash, Claire Squires and Ian Willison (eds), The Cambridge History of the Book in Britain, Vol. 7: the Twentieth Century and Beyond (Cambridge: Cambridge University Press, 2019), pp. 279-318.

10-May-2019
J.A. Hammerton and J.M. Barrie

Articles

'J.A. Hammerton and J.M. Barrie', Anon: the J.M. Barrie Literary Society Journal, 2 (2019), 59-70.

28-Jun-2018
Publishers' Archives, Authors' Papers, and Literary Scholarship

Chapters

 'Publishers' Archives, Authors' Papers, and Literary Scholarship', in David C. Sutton and Ann Livingstone (eds), The Future of Literary Archives: Diasporic and Dispersed Collections at Risk (Leeds: Arc Humanities Press, 2018), pp. 115-125. 

01-May-2018
Ending Dear Brutus on Stage and in Print

Articles

'Ending Dear Brutus on Stage and in Print', Anon: The J.M. Barrie Literary Society Journal, Vol. 1 (2018), 19-30. 

01-Apr-2016
The Material History of the Novel I: 1940-1973

Chapters

The Material History of the Novel I: 1940-1973. In: Boxall, P. and Cheyette, B. (eds.) The Oxford History of the Novel in English, Volume 7: British and Irish Fiction since 1940. (Oxford History of the Novel in English). Oxford: Oxford University Press, pp. 21-36. ISBN 9780198749394

01-Apr-2016
The Material History of the Novel II: 1973-present

Chapters

 The Material History of the Novel II: 1973-present. In: Boxall, P. and Cheyette, B. (eds.) The Oxford History of the Novel in English, Volume 7: British and Irish Fiction since 1940. (Oxford History of the Novel in English). Oxford: Oxford University Press, pp. 401-16. ISBN 9780198749394

01-Jun-2015
Better Dead: J. M. Barrie's First Book and the Shilling Fiction Market

Articles

Better Dead: J. M. Barrie's First Book and the Shilling Fiction Market. Scottish Literary Review, 7 (1). pp. 19-41. ISSN 1756-5634 

01-Jan-2015
J.M. Barrie: Auld Licht Idylls and A Window in Thrums

Edited Book

 J.M. Barrie, Auld Licht Idylls and A Window in Thrums, edited with an introduction by Andrew Nash (Glasgow: Kennedy & Boyd, 2015)

01-Sep-2014
William Clark Russell and the Victorian Nautical Novel: Gender, Genre and the Marketplace

Monographs

William Clark Russell and the Victorian Nautical Novel: Gender, Genre and the Marketplace. London: Pickering & Chatto, 2014). Pp. xi + 231. 

01-Jul-2014
New Directions in the History of the Novel

Edited Book

 Patrick Parrinder, Andrew Nash and Nicola Wilson (eds), New Directions in the History of the Novel (Basingstoke & New York: Palgrave Macmillan, 2014) 

01-Jul-2014
Gateway to the Modern: Resituating J.M. Barrie

Edited Book

 Valentina Bold and Andrew Nash (eds), Gateway to the Modern: Resituating J.M. Barrie (Glasgow: ASLS, 2014)

01-Jul-2014
Textual instability and the contemporary novel: reading Janice Galloway's The trick is to keep breathing on and off the page

Chapters

 Textual instability and the contemporary novel: reading Janice Galloway's The Trick is to Keep Breathing on and off the page, in Patrick Parrinder, Andrew Nash and Nicola Wilson (eds), New Directions in the History of the Novel (Basingstoke & New York: Palgrave Macmillan, 2014), pp. 50-62.

01-Jul-2014
Barrie, Sentimentality, and Modernity

Chapters

 'Barrie, Sentimentality, and Modernity', in Valentina Bold and Andrew Nash (eds.), Gateway to the Modern: Resituating J.M. Barrie (Glasgow: ASLS, 2014), pp. 103-120.

01-Dec-2013
Covering Muriel Spark: Penguin Books and the Designing of an Author

Chapters

Covering Muriel Spark: Penguin Books and the Designing of an Author. In: Wootten, W. and Donaldson, G. (eds.) Reading Penguin: A Critical Anthology. Newcastle: Cambridge Scholars Publishing, pp. 153-170. ISBN 9781443846165

01-Dec-2013
Serial into Volume

Chapters

Serial into Volume. In: Mallett, P. (ed.) Thomas Hardy in Context. Cambridge: Cambridge University Press, pp. 42-53. ISBN 9780521196482 

01-Aug-2012
Victorian Scottish Literature

Chapters

 'Victorian Scottish Literature', in Gerard Carruthers and Liam McIlvanney (eds) The Cambridge Companion to Scottish Literature (Cambridge: Cambridge University Press, 2012), pp. 145-58.

01-Dec-2011
The 'Shatton and Windup' Affair: Beckett's dealings with the firm of Chatto & Windus, 'Wholesale, Retail and for Exportation'

Chapters

Andrew Nash and John Pilling, 'The "Shatton and Windup" Affair: Beckett's dealings with the firm of Chatto & Windus, "Wholesale, Retail and for Exportation"', in Mark Nixon (ed.), Publishing Samuel Beckett (London: British Library, 2011), pp. 11-22.

01-Dec-2011
The Production of the Novel, 1880-1940

Chapters

 'The Production of the Novel', in Patrick Parrinder and Andrezj Gasiorek (eds.), The Oxford History of the Novel in English, vol. 4: The Reinvention of the British and Irish Novel 1880-1940 (Oxford: Oxford University Press), pp. 3-19.

01-Jun-2011
D. H. Lawrence and the publication of Look! We Have Come Through!

Articles

 'D. H. Lawrence and the publication of Look! We Have Come Through!', The Library: The Transactions of the Bibliographical Society, 12 (2). pp. 142-163. ISSN 1744-8581

01-Apr-2011
The sense of an ending?: The history of the book in postwar America

Review

'The sense of an ending?: The history of the book in postwar America', Papers of the Bibliographical Society of America, 105:2, 231-241.

01-Jan-2011
Sifting out 'rubbish' in the Literature of the Twenties and Thirties

Chapters

'Sifting out "rubbish" in the Literature of the Twenties and Thirties': Chatto & Windus and the Phoenix Library', in John Spiers (ed.), The Culture of the Publishers' Series, Volume 1: Authors, Publishers and the Shaping of Taste (Basingstoke and New York: Palgrave Macmillan, 2011), pp. 188-201.

31-Dec-2010
Freedom and Power? Women, Class and Inheritance in Mrs Alexander's Her Dearest Foe (1876)

Articles

' Freedom and Power? Women, Class and Inheritance in Mrs Alexander's Her Dearest Foe (1876)', Victorians Institute Journal, 38 (2010), 127-47.

01-Sep-2010
A Kailyard Curiosity

Articles

 'A Kailyard Curiosity', Book Collector, 59:3 (Autumn 2010), 392-8.

01-Sep-2010
Reading the Nation: The History of the Book in America, 1880-1940

Review

 Reading the Nation: The History of the Book in America, 1880-1940, Papers of the Bibliographical Society of America, 104:3 (2010), 365-75.

01-Mar-2010
William Clark Russell and Chambers's Journal: Elopement and the Victorian Nautical Novel

Articles

William Clark Russell and Chambers's Journal: Elopement and the Victorian Nautical Novel', Victorian Periodicals Review, 43:1 (Spring, 2010), 42-56.

01-Jan-2010
Ian Maclaren, St Jude's

Edited Book

  Ian Maclaren, St Jude's, edited with an introduction by Andrew Nash (Glasgow: Kennedy & Boyd, 2010)

31-Dec-2009
A.P. Watt and the Marketing of Ian Maclaren

Articles

'A.P. Watt and the Marketing of Ian Maclaren, Journal of the Edinburgh Bibliographical Society, 4 (2009), 49-59.

01-Sep-2009
William Clark Russell: an unattributed early work by the Victorian novelist of the sea

Articles

 William Clark Russell: an unattributed early work by the Victorian novelist of the sea. Notes and Queries, 56:3 (September, 2009), 396-398.

01-Jan-2009
Mass markets: literature

Chapters

Simon Eliot and Andrew Nash, 'Mass markets: literature', in David McKitterick (ed.), The Cambridge History of the Book in Britain, vol. 6: 1830-1914 (Cambridge: Cambridge University Press, 2009), pp. 416-442.

01-Jan-2009
Authorship

Chapters

Patrick Leary and Andrew Nash, 'Authorship', in in David McKitterick (ed.), The Cambridge History of the Book in Britain, vol. 6: 1830-1914 (Cambridge: Cambridge University Press, 2009), pp. 172-213.

01-Dec-2008
Hogg's Confessions, S.R. Crockett and the House of Macmillan

Articles

'Hogg's Confessions, S.R. Crockett and the House of Macmillan', Studies in Hogg and his World, 19 (2008), 117-121,

01-Nov-2007
Literary Cultures and the Material Book

Edited Book

 Simon Eliot, Andrew Nash and Ian Willison (eds), Literary Cultures and the Material Book (London: British Library, 2007)

01-Nov-2007
Literary Culture and Literary Publishing in Inter-War Britain: a view from Chatto and Windus

Chapters

'Literary Culture and Literary Publishing in Inter-War Britain: a view from Chatto and Windus', in Simon Eliot, Andrew Nash and Ian Willison (eds), Literary Cultures and the Material Book (London: British Library, 2007), pp. 323-42

01-Jun-2007
Kailyard and Scottish Literature

Monographs

 (Amsterdam & New York: Rodopi, 2007), pp. 268. 

12-Jan-2007
Authors in the Scottish literary marketplace

Chapters

'Authors in the Scottish Literary Marketplace', in David Finkelstein and Alistair McCleery (eds), The Edinburgh History of the Book in Scotland, Volume 4: Professionalism and Diversity, 1880–2000 (Edinburgh: Edinburgh University Press, 2007), pp. 388-408.

12-Jan-2007
Literary Publishing, 1880-1914

Chapters

 'Literary Publishing, 1880-1914', in David Finkelstein and Alistair McCleery (eds), The Edinburgh History of the Book in Scotland, Volume 4: Professionalism and Diversity, 1880–2000 (Edinburgh: Edinburgh University Press, 2007), pp. 203-222.

12-Jan-2007
The Changing Face of the Publishing House, 1880-1980

Chapters

'The Changing Face of the Publishing House', in David Finkelstein and Alistair McCleery (eds), The Edinburgh History of the Book in Scotland, Volume 4: Professionalism and Diversity, 1880–2000 (Edinburgh: Edinburgh University Press, 2007), pp. 185-202. 

01-Jan-2007
J.M. Barrie and the Third Sex

Chapters

'J.M. Barrie and the Third Sex', in Sarah Carpenter and Sarah M. Dunnigan (eds), Joyous Sweit Imaginatioun: Essays on Scottish Literature in Honour of R.D.S. Jack (Amsterdam& New York: Rodopi, 2007), pp. 229-240.

01-Jan-2007
Ian Maclaren, Beside the Bonnie Brier Bush

Edited Book

 Ian Maclaren, Beside the Bonnie Brier Bush, edited with an introduction by Andrew Nash (Glasgow: Kennedy & Boyd, 2007)

01-Jan-2007
S.R. Crockett: The Stickit Minister

Edited Book

 S.R. Crockett, The Stickit Minister, edited with an introduction by Andrew Nash (Glasgow: Kennedy & Boyd, 2007)

01-Dec-2006
The Kailyard: Problem or Illusion?

Chapters

'The Kailyard: Problem or Illusion?', in Ian Brown, Thomas Clancy, Susan Manning and Murry Pittock (eds), The Edinburgh History of Scottish Literature, vol. 2 (Edinburgh: Edinburgh University Press, 2006), pp. 325-32.

01-Dec-2006
The Return of the Native and Belgravia

Chapters

'The Return of the Native and Belgravia', in Phillip Mallett (ed.), The Return of the Native. Norton Critical Editions (London: W.W. Norton, 2006), pp. 363-70 

01-Dec-2005
Walter Besant's All Sorts and Conditions of Men and Robert Louis Stevenson's Strange Case of Dr Jekyll and Mr Hyde

Articles

'Walter Besant's All Sorts and Conditions of Men and Robert Louis Stevenson's Strange Case of Dr Jekyll and Mr Hyde', Notes & Queries, n.s., 52:4 (December 2005), 494-7.

30-Nov-2005
'At the Gates': New Commentaries on a Lost Text by D.H. Lawrence

Articles

'"At the Gates": New Commentaries on a Lost Text by D.H. Lawrence', Review of English Studies, Vol. 56, No. 227 (November, 2005), 766-75.  

31-Dec-2004
The Publication of Catherine Carswell's Novels

Articles

'The Publication of Catherine Carswell's Novels', The Bibliotheck, n.s. 1:1 (2004), 7-26

31-May-2004
William Robertson Nicoll, the Kailyard Novel and the Question of Popular Culture

Articles

'William Robertson Nicoll, the Kailyard Novel and the Question of Popular Culture', Scottish Studies Review, 5:1 (2004), 57-73

12-Jan-2004
Ghostly Endings: the Evolution of J.M. Barrie's Farewell Miss Julie Logan

Articles

 'Ghostly Endings: the Evolution of J.M. Barrie's Farewell Miss Julie Logan', Studies in Scottish Literature, 33 (2004), 124-137.

31-Dec-2003
The dead should be protected from their own carelessness&quot;: the collected editions of Robert Louis Stevenson

Chapters

'"The dead should be protected from their own carelessness": the collected editions of Robert Louis Stevenson', in Andrew Nash (ed.), The Culture of Collected Editions (Basingstoke & New York: Palgrave Macmillan, 2003), pp. 111-27

31-Dec-2003
Frank Swinnerton on John Cowper Powys

Articles

 'Frank Swinnerton on John Cowper Powys', Powys Journal, XIII (2003), 166-78.

01-Dec-2003
The Culture of Collected Editions

Edited Book

The Culture of Collected Editions (Basingstoke & New York: Palgrave Macmillan, 2003). 

01-Dec-2003
The Culture of Collected Editions: Authorship, Reputation, and the Canon

Chapters

 The Culture of Collected Editions: Authorship, Reputation, and the Canon, The Culture of Collected Editions (Basingstoke & New York: Palgrave Macmillan, 2003), 1-15

01-Jan-2003
A Publisher&rsquo;s Reader on the Verge of Modernity: the Case of Frank Swinnerton

Articles

'A Publisher's Reader on the Verge of Modernity: the Case of Frank Swinnerton', Book History Vol. 6 (2003), 175-95.

31-Dec-2002
Charles Prentice and T.F. Powys: a Publisher's Influence

Articles

Andrew Nash and James Knowlson, 'Charles Prentice and T.F. Powys: a Publisher's Influence', Powys Journal, XII (2002), 35-66.

01-Dec-2002
Life in Gissing's New Grub Street: David Christie Murray and the Practice of Authorship, 1880-1900

Articles

'Life in Gissing's New Grub Street: David Christie Murray and the Practice of Authorship, 1880-1900', Publishing History, LI (2002), 23-61.

30-Jun-2001
The Serialization and Publication of The Return of the Native: a new Thomas Hardy Letter

Articles

 'The Serialization and Publication of The Return of the Native: a new Thomas Hardy Letter', The Library: the Transactions of the Bibliographical Society, 2:1 (2001), 53-59

01-Dec-2000
Understanding the Land in Scot(t)land

Conference papers

'Understanding the Land in Scot(t)land', in Susanne Hagemann (ed.), Terranglian Territories: Proceedings of the Seventh International Conference on the Literature of Region and Nation (Frankfurt am Main: Peter Lang), pp. 631-40

01-Dec-2000
Farewell, Miss Julie Logan: A J.M. Barrie Omnibus

Edited Book

 Farewell, Miss Julie Logan: A J.M. Barrie Omnibus, edited with an introduction and notes by Andrew Nash (Edinburgh: Canongate, 2000)

01-Sep-2000
Two Unpublished Letters of Robert Louis Stevenson

Articles

'Two Unpublished Letters of Robert Louis Stevenson, Notes & Queries, 47:3 (2000), 334-336.

01-Dec-1999
Robert Buchanan and Chatto & Windus: Reputation, Authorship, and Fiction as Capital in the late Nineteenth Century

Articles

 'Robert Buchanan and Chatto & Windus: Reputation, Authorship, and Fiction as Capital in the late Nineteenth Century', Publishing History, XLVI (1999), 5-33.

01-Oct-1999
'A Phenomenally Slow Producer': J.M. Barrie, Scribner's, and the Publication of Sentimental Tommy

Articles

 '"A Phenomenally Slow Producer": J.M. Barrie, Scribner's, and the Publication of Sentimental Tommy', Yale University Library Gazette, Vol. 74, Nos. 1-2 (Oct. 1999), 41-53.

01-Jun-1999
From Realism to Romance: Gender and Narrative Technique in J.M. Barrie's The Little Minister

Articles

'From Realism to Romance: Gender and Narrative Technique in J.M. Barrie's The Little Minister', Scottish Literary Journal, Vol. 26, No. 1 (June, 1999), 77-92. 

01-Apr-1999
'Trying to be a Man': J.M. Barrie and Sentimental Masculinity

Articles

 '"Trying to be a Man": J.M. Barrie and Sentimental Masculinity', Forum for Modern Language Studies, Vol. 35, No. 2 (April, 1999), 113-127

31-Dec-1998
The Compilation of J.M. Barrie's Auld Licht Idylls

'The Compilation of J.M. Barrie's Auld Licht Idylls', The Bibliotheck, 23 (1998), 85-96

31-Dec-1997
The Cottar's Kailyard

Chapters

 'The Cottar's Kailyard', in Robert Crawford (ed.), Robert Burns and Cultural Authority (Edinburgh: Edinburgh University Press, 1997), 180-97

31-Dec-1996
Re-reading the 'Lad o' Pairts': the Myth of the Kailyard Myth

Articles

 Re-reading the 'Lad o' Pairts': the Myth of the Kailyard Myth, Scotlands, 3:2 (1996), 86-102

Research Projects & Supervisions

Research projects:
Back to top