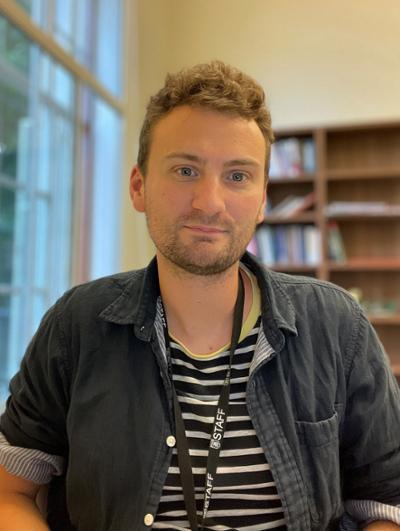 Contact details
Name:

Dr Joseph Ford

Qualifications:

BA, MA (Res), PhD (Leeds), FHEA

Position:

Senior Lecturer in French Studies; Director, Centre for the Study of Cultural Memory

Institute:

Location:

Institute of Languages, Cultures and Societies School of Advanced Study University of London Senate House Malet Street London WC1E 7HU

Phone:

020 7862 8872

Email address:

Website:
---
Research Summary and Profile
Research interests:

Colonies & Colonization, emigration & immigration, Cultural memory, Culture, Globalization & Development, Language and Literature (French), Literatures in a modern language

Research keywords:

Comparative Studies

Regions:

Africa, Caribbean, Europe

Summary of research interests and expertise:

I joined the ILCS in January 2019 as Early Career Researcher, where I lead in the facilitation and support of UK-wide research, public engagement and widening participation in French, Comparative and Memory Studies. I previously taught at Durham University (2016–19), Université Paris-Est (2015–16) and the University of Leeds (2014–15).

I specialise in contemporary French and Francophone Literature and Culture, with specific interests in Algeria and what has become known as the Algerian Civil War or "Black Decade" of the 1990s. My wider research interests are in post/colonial studies, world literature, literary translation, and French and Francophone intellectual culture of the 20th and 21st centuries.

My monograph, Writing the Black Decade: Conflict and Criticism in Francophone Algerian Literature (Lexington Books, 2021), studies how literature – and the way we read, classify and critique literature – impacts our understanding of the world at a time of conflict. I argue that, while it is frequently understood as an illuminating and emancipatory mode, literature – and the ideas we have about it – can in fact restrain our understanding of the world at a time of crisis, as well as further entrench the kinds of polarized discourses that lead to conflict in the first place. Foregrounding the notion of "the literary" and the aesthetic, I move beyond sociological readings of Algerian writers' works and ultimately show how writers engage with and anticipate academic readings of their work, particularly in postcolonial studies and world literature.

I have published articles and chapters on the work of multiple North African writers, including Mustapha Benfodil, Maïssa Bey, Salim Bachi, Kamel Daoud, translated a book-length collection of poems by Mustapha Benfodil (Hesterglock Press, 2018) and recently published an article in the comparative literature section of the open-access journal Modern Languages Open on the theory and practice of "world literature" in the work of Edouard Glissant, Abdelkébir Khatibi and the Algerian writer Kaouther Adimi (see publications list).

At the ILCS, I am currenlty Senior Lecturer and Director of the Centre for the Study of Cultural Memory (CCM), co-General Editor (with Charles Burdett) of the Journal of Romance Studies and convenor of the Convocation Seminars in World Literature and Translation (co-convened with LINKS). Together with Emanuelle Santos (Birmingham), I also co-lead the Decolonising Languages Network.
Publication Details

Related publications/articles:

Date
Details
26-Dec-2022
Towards a vernacular poetics of World Making: Edouard Glissant, Abdelkébir Khatibi and Kaouther Adimi

Journal articles

Modern Languages Open, 1, 21 pp. DOI: http://doi.org/10.3828/mlo.v0i0.428.

01-Dec-2022
(with Charles Burdett) Editorial: A new name for the Institute of Modern Languages Research

Journal articles

Journal of Romance Studies 22.4 (2022), 421-24.

16-Oct-2022
Preface

Chapters

In: Kateb Yacine: Soliloquies and Other Poems, ed. by Boukhalfa Laouari and Carmen Garraton Mateu (Tizi Ouzou: Editions Frantz Fanon, 2022), forthcoming.

01-Sep-2022
Tristan Leperlier, Algérie: les écrivains dans la décennie noire. Paris: CNRS Editions, 2018. 344 pp. €25.00 (pb). ISBN 9-78-2271120755.

Review

H-France Review 22.156, 1-6.

01-Sep-2022
(Paperback edition) Writing the Black Decade Conflict and Criticism in Francophone Algerian Literature

Monographs

Lanham, MD: Lexington Books, September 2022

05-Jul-2022
(with Emanuelle Santos) Decolonising languages: Ways forward for UK HE and beyond

Journal articles

Languages, Society and Policy

01-Jul-2022
(with Adi Saleem Bharat), Contextualizing Apostasy and 'Ex-Muslims' in France and North Africa

Journal articles

Contemporary French Civilization 47.2 (2022), 131–141.

01-Jul-2022
(with Adi Saleem Bharat) 'Je suis incroyant, mais un incroyant de culture musulmane': a roundtable discussion with Salim Bachi

Journal articles

Contemporary French Civilization 47.2 (2022), 247–255.

01-Jul-2022
Leaving Islam in France and North Africa

Edited Book

Special issue of Contemporary French Civilization 47.2 (2022).

01-Jan-2021
Writing the Black Decade: Conflict and Criticism in Francophone Algerian Literature

Monographs

Lanham, MD: Lexington Books, 2021

01-Nov-2020
Deconstructing the Grotesque in Contemporary Francophone Algerian Literature, or: How to move beyond the 'zombified' State?

Journal articles

Irish Journal of French Studies, 20 (2020), 48–71.

01-Nov-2020
Revisiting the Grotesque in Francophone African Literature

Edited Book

Special issue of the Irish Journal of French Studies, 20 (2020), 1–172.

01-Nov-2020
(with Sarah Arens) Introduction: Revisiting the Grotesque in Francophone African Literature

Journal articles

Irish Journal of French Studies, 20 (2020), 1–13.

27-Apr-2020
Encountering COVID-19: Lessons from Languages

Articles

In Living Languages, ILCS blog/Talking Humanities

06-Jun-2019
Academic Conferences and Schools Outreach: An Integrated Approach in Modern Languages

Articles

Talking Humanities blog post

01-Mar-2018
Cocktail Kafkaine: Dark Poetry [bilingual edition]

Edited Book

Translated and edited book of poems by Mustapha Benfodil (Bristol: Hesterglock Press, 2018).

01-Jan-2017
Kamel Daoud: (im)possibilités de lecture

Chapters

In: Kamel Daoud, esquisse d'un phénomène postcolonial algérien, ed. by Boukhalfa Laouari (Tizi Ouzou: Editions Frantz Fanon, 2017), pp. 60-75.

01-Jan-2016
Rethinking urgence: Algerian Francophone literature after the 'décennie noire'

Journal articles

Francosphères, 5, 1 (2016), pp. 39-58.

01-Jan-2015
Introduction: Transnational Memory and Traumatic Histories

Journal articles

Forum: University of Edinburgh Postgraduate Journal of Culture and the Arts, Special Issue 4 (2015).

01-Jan-2014
Algiers, Paris, New York: migrating terror

Journal articles

Bulletin of Francophone Postcolonial Studies 5, 2 (2014), pp. 10-15.

01-Jan-2014
Figuring Camus in recent Algerian writing: between the mother and (in)justice

Journal articles

Journal of Camus Studies (2014 issue), pp. 45-60.

Publications available on SAS-space:

Date
Details
Aug-2020
Deconstructing the Grotesque in Contemporary Francophone Algerian Literature, or: How to move beyond the 'zombified' State?

PeerReviewed

Taking Achille Mbembe's theory of the grotesque as a starting point, this article examines how a series of contemporary Algerian novels deploy an aesthetic of the grotesque to contest and deconstruct the operation of State power in Algeria. The article shows how three writers of the post-civil war period (Habib Ayyoub, Salim Bachi and Mustapha Benfodil) engage in distinct yet related ways with representations of the grotesque and the obscene in a renewed effort to break out of a state of false consciousness that renders citizens and observers complicit with the structures of power in place. The article argues that one of the reasons Mbembe's landmark essay is so important to the situation now faced by Algerian artists, writers and civil society, is because it helps us to see the failure of the grotesque as a contestatory aesthetic and hence provides new insight into the spectacle of power at work in Algerian society and politics.

Dec-2022
Towards a Vernacular Poetics of World-making: Edouard Glissant, Abdelkébir Khatibi, and Kaouther Adimi

PeerReviewed

Drawing on a select group of literary and intellectual voices from the Francosphere, this article examines how writers and theorists from outside Europe deploy experimental linguistic and literary forms to deconstruct dominant definitions of the world and the kinds of world-making processes widely understood to constitute it. Rereading works by the Martinican writer, poet, and thinker Edouard Glissant and the Moroccan sociologist and literary critic Abdelkébir Khatibi, and applying their insights to the work of the Algerian writer Kaouther Adimi, the article advances an account of what it refers to as a "vernacular poetics of world-making". Through an analysis of these writers' works, the article shows how they implicitly deploy vernacular poetics to simultaneously destabilise and rearticulate ideas of "world" and posit a poetics of world literature "from below". In so doing, the article advocates for a mode of reading that engages a slower, more contemplative, self-reflexive thinking, arguing that the power of a vernacular poetics is in its capacity not so much to change the world but to reveal the world as it is, in its founding epistemic heterogeneity.

Jul-2022
Decolonising languages: Ways forward for UK HE and beyond

PeerReviewed

In the following opinion article, Joseph Ford and Emanuelle Santos give a short account of work being done with a view to 'decolonise languages' in UK Higher Education and pose some fundamental questions that are still absent from mainstream discussions on the topic.

Research Projects & Supervisions

Research projects:

Details
Convocation Seminars in World Literature and Translation

Funded by a grant from the University of London's Convocation Trust (£2262.10), this series of 12 seminars brings together scholars, teachers and students working in languages and comparative literature across London and the UK with the aim of examining the increasingly contentious place of world literature in the study of languages, as well as languages in the study of world literature.

Decolonising Languages Network

Co-convened with Dr Emanuelle Santos (University of Birmingham)

Professeur invité, Université Bordeaux-Montaigne (UBM)

In March 2022, I was Visiting Professor at the Université Bordeaux-Montaigne (UBM) working on my new research project, 'Towards a Vernacular Poetics of World-Making'. Co-funded (c. £2,500) by Université Bordeaux-Montaigne (UBM) and the Ministère de l'Éducation nationale and the Ministère de l'Enseignement supérieur et de la Recherche.

Current PhD topics supervised:

Past PhD topics supervised:

Dates
Details
From: 01-Oct-2020
Until: 01-Oct-2021
MRes supervision: 'Adapting Panurge'

From: 01-Oct-2019
Until: 01-Oct-2021
MRes supervision: 'Representations of the "insider" and "outsider" in Belle Epoque Paris: Lautrec, Maupassant and Daudet'

Available for doctoral supervision: Yes

Professional Affiliations

Professional affiliations:

Relevant Events

Other editing/publishing activities:

Knowledge transfer activities:

Details
Member of the Association for Language Learning (ALL) special interest group: 'Decolonise Secondary MFL'

Facilitating dialogue between MFL specialists in schools, universities, HE ITT institutions and publishing, in order to mobilise pedagogical advances in decolonised curriculum development, in order to have positive practical impact on our students in the primary and secondary MFL classroom.

1000 Words For Belonging

A multilingual knowledge exchange arts project that recognises and celebrates linguistic diversity as a major strength for creativity, community and a sense of belonging, in collaboration with creative facilitator and writer, Neela Doležalová and Gearies Primary School in East London.

Consultancy & Media

Available for consultancy:

Yes

Media experience:

Yes
Back to top