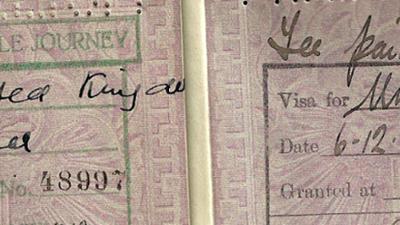 Contact details
Name:

Dr Anna Nyburg

Position:

Research Centre for German & Austrian Exile Studies Member/Treasurer

Institute:

Email address:

Website:
---
Research Summary and Profile
Research interests:

English Literature

Summary of research interests and expertise:

Dr Anna Nyburg is the Centre's Honorary Treaurer. Her doctorate, published as Émigrés: the Transformation of Art Publishing in Britain (Phaidon, 2014), focused on the art publishing houses set up by German and Austrian refugees to Britain, as well as on book design and production by other refugees in the field. From Leipzig to London: the Life and Work of the Émigré Artist Hellmuth Weissenborn (her biography of Weissenborn) was published by Oak Knoll in 2012. She has contributed articles on other aspects of exile to the Yearbook of the Research Centre for German and Austrian Exile Studies (Leiden: Brill): on 'Food in Exile' (vol. 16), 'Margarete Berger Hamerschlag and the Theatre: Vienna, Rome, London' (vol. 14), and '"Dein grosser Brief war ein Ereignis": the Private and Professional Correspondence of the Refugee Art Historians Hilde and Otto Kurz' (vol. 9), and given a paper on 'Motherhood and Exile' at the Centre's triennial conference on 'Gender and Exile' in 2014. She was on the editorial/translation team of Bruno Cassirer Publishers Ltd., Oxford 1940–1990. An Annotated Bibliography with Essays (Göttingen, 2016), to which she contributed a chapter entitled 'A Consideration of the Art Publishing Landscape in Oxford in the 1940s: Bruno Cassirer Publishers Oxford, Phaidon and the Oxford University Press', and has also contributed two articles to Matrix. A Review for Printers and Bibliophiles: 'The Search for Hellmuth Weissenborn' (vol. 31) and 'Emigrés' (vol. 33). Dr Nyburg has since concentrated on other aspects of the refugee contribution to design in this country, becoming a consultant on the Victoria & Albert Museum's project to digitise archives of Jewish Refugee Designers. In 2017 she co-produced a film about refugee designers with Dr Robert Sternberg entitled Refuge Britain, shown at the V&A as well as other London venues and in Vienna, Budapest and Leeds. She spoke on émigrés in the British fashion industry at the Ben Uri centenary exhibition Out of Chaos and at the Oxford Continuing Education Programme (2016). On the latter programme she has also spoken on refugee designers, publishing in exile, and internment art. Her chapter on refugee publishers in Oxford appeared in Ark of Civilisation (Oxford, 2017). Other publications include: [ed. with Marian Malet, Rachel Dickson, and Sarah MacDougall] Applied Arts in British Exile from 1933: Changing Visual and Material Culture (Yearbook of the Research Centre for German and Austrian Exile Studies, 2018); and 'Textile in Exile: Refugee Textile Surface Designers in Britain' (Yearbook of the Research Centre for German and Austrian Exile Studies, 2018). In connection with the Jewish Museum of London's exhibition, she wrote an article on refugee textile designers for the accompanying publication. In 2021 her third book, The Clothes on our Backs: How Refugees from Nazism Revitalised the British Fashion Trade was published by Vallentine Mitchell, and presented at the Jewish Book Week, National Holocaust Centre and other venues. She is a trustee of the Insiders/Outsiders festival which celebrates the cultural contribution of the refugees to British life and has contributed two chapters to their Lund Humphries volume and translated another, as well as speaking on several occasions in this forum. She is currently editing the volume arising from a conference jointly organised by Insiders/Outsiders and the Research Centre entitled Innocence and Experience: Children and the Refugees from Nazism, to which she contributed a chapter on motherhood. Dr Nyburg is due to speak at the Newcomen Society in Manchester about refugees in the textile trade, and to present Refuge Britain in 2023 at the Bernat Klein exhibition at the National Museum of Scotland in Edinburgh. In September 2023 the Research Centre is holding a conference which, at her instigation, will focus on refugees from Nazism in trade, industry and engineering, and at which she will give a paper on the engineer Dr Emil Rich. She will be also editing the Yearbook following the conference jointly with Charmian Brinson.
Back to top