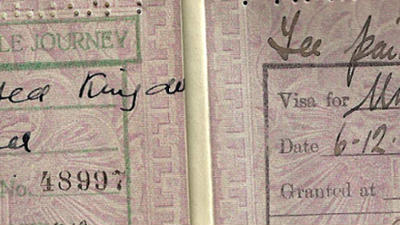 Contact details
Name:

Dr Ines Schlenker

Position:

Research Centre for German & Austrian Exile Studies Member

Institute:

Email address:

Website:
---
Research Summary and Profile
Research interests:

Colonies & Colonization, emigration & immigration

Summary of research interests and expertise:

Profile

Dr Ines Schlenker is an independent art historian with a special interest in National Socialist, 'degenerate' and émigré art. Publications include Hitler's Salon. The Grosse Deutsche Kunstausstellung at the Haus der Deutschen Kunst in Munich, 1937-1944 (Oxford et al. 2007); Marie-Louise von Motesiczky 1906-1996. A Catalogue Raisonné of the Paintings (Manchester/New York 2009); Liebhaber ohne Adresse. Elias Canetti und Marie-Louise von Motesiczky. Briefwechsel 1942-1992, co-edited with Kristian Wachinger (Munich 2011); 'Drawing for the Radio Times. The Contribution of Émigré Artists', in Applied Arts in British Exile from 1933. Changing Visual and Material Culture, ed. by Marian Malet, Rachel Dickson, Sarah MacDougall and Anna Nyburg (Yearbook of the Research Centre for German and Austrian Exile Studies, vol. 19); Milein Cosman. Capturing Time (Munich/London/New York 2019); 'Saving St Christopher. The History of a Looted Painting' (International Journal of Cultural Property, vol. 28, 2021); Chagall (Munich/London/New York 2022); 'Foreign Inspirations. Children's Book Illustrations by Émigré Artists', to be published in 2023 in Innocence and Experience. Children and the Refugees from Nazism, ed. by Anna Nyburg.
Back to top