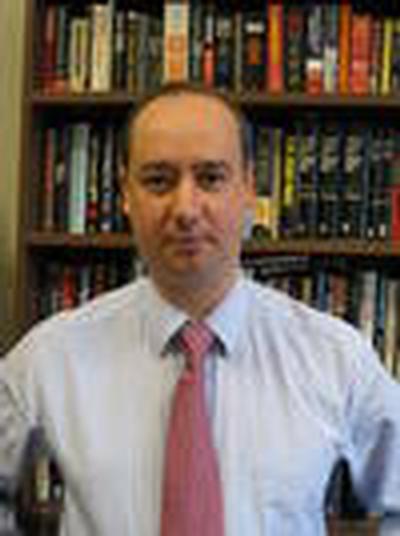 Contact details
Name:

Professor Philip Murphy

Qualifications:

BA & DPhil (Oxford)

Position:

Director of History & Policy, Institute of Historical Research; Professor of British and Commonwealth History; Joint editor, Journal of Imperial and Commonwealth History

Institute:

Location:

Institute of Historical Research Senate House Malet Street London WC1E 7HU

Phone:

020 7862 8841

Email address:

Website:
---
Research Summary and Profile
Research interests:

Colonies & Colonization, emigration & immigration, Contemporary History, International Relations, Modern History

Regions:

Africa, Europe

Summary of research interests and expertise:

Twentieth-century British and Commonwealth history, including aspects of post-war British decolonization particularly in Africa, and post-war African politics. The British Monarchy and the Post-War Commonwealth. Also an interest in the Conservative party, right wing politics in Britain, and the European colonial empires since the nineteenth century. Intelligence History, MI5 (the Security Service) in the colonial Empire, and the activities of the British, Commonwealth and US intelligence communities in the twentieth century. Currently writing a biography of the journalist Andrew Roth.
Publication Details

Related publications/articles:

Date
Details
01-Jul-2021
The Empire's New Clothes: The Myth of the Commonwealth

Monographs

Revised paperback edition with new 10,000-word concluding chapter.

ISBN-10 1787384934

17-Sep-2020
'State Visits Made and Received by the British and other European Monarchical Heads of State'

Chapters

'State Visits Made and Received by the British and other European Monarchical Heads of State' in Robert Hazell and Bob Morris (eds), The Role of Monarchy in Modern Democracy European Monarchies Compared (London, Hart Publishing, 2020), ISBN: 9781509931033, pp. 133-148.

16-Jul-2020
Review of 'British Civic Society at the End of Empire: Decolonization, Globalisation and International Responsibility' byAnna Bocking-Welch.

Review

Journal of Contemporary History, Volume: 55 issue: 3, page(s): 704-705

04-Nov-2019
Review of 'Britannia's Zealots, Volume I: Tradition, Empire and the Forging of the Conservative Right', by N C Fleming.

Review

Published online in 'Cerles: revue pluridisciplinaire du monde anglophone', November 2019.

04-Mar-2019
Review of 'The Veiled Sceptre: Reserve Powers of Heads of State in Westminster Systems, by Anne Twomey'

Review

The Journal of Imperial and Commonwealth History, 47:1, 197-200, DOI: 10.1080/03086534.2019.1580868

19-Apr-2018
The Empire's New Clothes: The Myth of the Commonwealth

Monographs

 Published by Hurst, ISBN: 9781849049467 296pp

01-Mar-2015
Acceptable Levels? The Use and Threat of Violence in the Decolonization of British Central Africa, 1953-1965

Chapters

Bandeira Jerónimo, M. , Costa Pinto, A. (eds.) (2015) The Ends of European Colonial Empires: Cases and Comparisons, Palgrave MacMillan, ISBN 9781137394057

06-Dec-2013
Monarchy and the End of Empire: The House of Windsor, the British Government and the Postwar Commonwealth

Monographs

Oxford University Press

01-Jan-2012
'Britain as a Great Power in the Twentieth Century'

Articles

In Andrew Thompson (ed), Britain's Experience of Empire in the Twentieth Century: Oxford History of the British Empire Companion Series (Oxford, OUP, 2012), pp. 33-75.

01-Jan-2012
The Queen and the Commonwealth

Articles

Jones-Parry R. and Robertson A. (eds) The Commonwealth Yearbook 2012. Nexus/Commonwealth Secretariat, pp. 172-3

01-Jan-2011
Britain and the Commonwealth: Confronting the Past - Imagining the Future

Articles

The Round Table 100 (414), pp. 267-283

21-Nov-2010
'South African intelligence, the Wilson Plot and post-Imperial trauma' in Patrick Major and Christopher R Moran (eds), Spooked: Britain, Empire and Intelligence since 1945

Cambridge Scholars Press

01-Jan-2010
'A Police State? The Nyasaland Emergency and Colonial Intelligence'

Articles

Journal of Southern African Studies, 36 (4), (Dec. 2010), pp. 765-780.

01-Jan-2010
Review of several books

International History Review, 31/4, pp. 890-893


01-Dec-2009
Review article covering several books

Journal of Imperial and Commonwealth History, 37/4



01-Jan-2009
Review of Christopher Andrew, The Defence of the Realm: The Authorized History of MI5 (2009)

Journal of Imperial and Commonwealth History, 38/2, pp. 340-44

01-Jan-2009
Review of the Daily Telegraph Book of Imperial and Commonwealth Obituaries (2009)

Journal of Imperial and Commonwealth History, 38/1, pp. 157-8

01-Jan-2009
The Commonwealth at 60. A Success Story?

Global: the International Briefing


01-Jan-2005
British Documents on the End of Empire: Central Africa

London, Stationery Office: Part I, cxxviii + 448 pp, ISBN 0112905862; Part II, xl + 602 pp, ISBN 0112905870

01-Jan-2001
'Intelligence and Decolonization: The Life and Death of the Federal Intelligence and Security Bureau, 1954-63'

Articles

The Journal of Imperial and Commonwealth History, 29 (2), (May 2001), pp. 101-130

01-Jan-1999
Alan Lennox-Boyd: A Biography

Monographs

London, I.B.Tauris, 1999, xi + 276pp.

01-Jan-1995
Party Politics and Decolonization: The Conservative Party and British Colonial Policy in Tropical Africa 1951-1964

Oxford, Oxford University Press: xii + 259pp

Publications available on SAS-space:

Date
Details
The House of Windsor and the Modern Commonwealth

NonPeerReviewed

Queen Elizabeth II should be the final Head of the Commonwealth

PeerReviewed

Lurking not far beneath the surface of the current celebrations of the Queen's Diamond Jubilee is a nagging anxiety: what happens next? Nowhere is this more acute than in Commonwealth circles. The future of the headship of the Commonwealth, a role the Queen has played with such dedication, is in doubt. Should it pass to her heir, Prince Charles? Dig a little deeper and you soon encounter off-the-record expressions of doubt about Charles's suitability. Amid the rather awkward and embarrassed murmurings that pass for debate on this issue, the cases for and against Charles inheriting the headship have barely been explored or discussed. Set out systematically, both sets of arguments are powerful and both deserve to be taken seriously. Ultimately, however, we conclude that the interests of the Commonwealth would be best served if the post of Head of the Commonwealth ceased to exist at the end of Her Majesty's reign.

BDEEP vB9: Central Africa

PeerReviewed

The British Documents on the End of Empire Project (BDEEP) is an initiative of the Institute of Commonwealth Studies, School of Advanced Study, University of London. Established in 1987 under the auspices of the British Academy, the Project has since published 18 volumes containing an annotated selection of official documents from the UK National Archives, charting British withdrawal from its colonial territories. Electronic versions of these volumes have been made available with the support of The Stationary Office under an Open Government Licence. Series B Volume 9 on 'Central Africa' was published in 2005 in two parts, edited by Philip Murphy.

Interview with K Shankar Bajpai: Commonwealth Oral History Project

NonPeerReviewed

Interview with K Shankar Bajpai, conducted 13th June 2013 in New Delhi as part of the Commonwealth Oral History Project. The project aims to produce a unique digital research resource on the oral history of the Commonwealth since 1965 through sixty oral history interviews with leading figures in the recent history of the organisation. It will provide an essential research tool for anyone investigating the history of the Commonwealth and will serve to promote interest in and understanding of the organisation. Biography: Bajpai, K Shankar. 1928- . Born in Jaipur, India. Educated at Merton College, Oxford, and Ecole des Hautes Etudes Universitaire, Geneva. Joined Indian Foreign Service in 1952, serving in Germany, Turkey and Pakistan. Consul General, United States West of the Mississippi, 1967-70. Government of India's Representative in Sikkim, 1970-74. Ambassador to the Netherlands, 1975. High Commissioner to Pakistan, 1976-80. Ambassador to China, 1980-82. Secretary of the Ministry of External Affairs, 1982-83. Ambassador to the United States, 1984-86. Co-founder (in 1994) and Chairman, Delhi Policy Group. Visiting Appointments at the University of California (1987-92), Brandeis University (1992-93), and Stanford University (2002).

Oct-2016
Interview with Ambassador Muchkund Dubey: Commonwealth Oral History Project

NonPeerReviewed

Interview with Ambassador Muchkund Dubey, conducted 4 July 2014 as part of the Commonwealth Oral History Project. The project aims to produce a unique digital research resource on the oral history of the Commonwealth since 1965 through sixty oral history interviews with leading figures in the recent history of the organisation. It will provide an essential research tool for anyone investigating the history of the Commonwealth and will serve to promote interest in and understanding of the organisation. Dubey, Muchkund. Born in India. Joined Indian Foreign Service, 1957. Former Indian Foreign Secretary. Former High Commissioner to Bangladesh. Former Permanent Representative to U.N. President Council for Social Development, Delhi.

Mar-2016
Interview with Salman Haidar: Commonwealth Oral History Project

NonPeerReviewed

Interview with Salman Haidar, conducted 14th June 2013 in Delhi as part of the Commonwealth Oral History Project. The project aims to produce a unique digital research resource on the oral history of the Commonwealth since 1965 through sixty oral history interviews with leading figures in the recent history of the organisation. It will provide an essential research tool for anyone investigating the history of the Commonwealth and will serve to promote interest in and understanding of the organisation. Biography: Haidar, Salman. Born in India. Graduate of Delhi University and University of Cambridge. Indian Foreign Service, 1960-. Minister/Deputy Permanent Representative of India at the United Nations in New York, 1977–80. Indian Foreign Secretary, 1995-1997. Former Ambassador to China, and Bhutan. Former Deputy High Commissioner to United Kingdom. Former High Commissioner to Kingdom, 1998.

Feb-2018
Interview with the Hon Alexander Downer: Commonwealth Oral History Project

NonPeerReviewed

Interview with the Hon Alexander Downer in London, 14th February 2018 as part of the Commonwealth Oral History Project. The project aims to produce a unique digital research resource on the oral history of the Commonwealth since 1965 through sixty oral history interviews with leading figures in the recent history of the organisation. It will provide an essential research tool for anyone investigating the history of the Commonwealth and will serve to promote interest in and understanding of the organisation. Biography: Downer, Alexander. 1951-. Born in Australia. Educated at Newcastle University (1975-1976). Australian Diplomatic Service, 1976-82. Political Adviser to Prime Minister JM Fraser, 1982-83. House of Representatives for Mayo, South Australia, 1984-2007. Shadow Minister for the Arts, Heritage and the Environment, 1987. Shadow Minister for Housing and Small Business, 1988 to 1989. Shadow Minister for Trade and Trade Negotiations, 1990-1992. Shadow Minister for Defence from 1992-1993. Shadow Treasurer, 1993-1994. Leader of the Liberal Party (Opposition), 1994-1995. Shadow Minister for Foreign Affairs, 1995-1996. Minister for Foreign Affairs, 1996-2007. Special Adviser to the UN Secretary-General on Cyprus, 2008-2014. High Commissioner to the United Kingdom, 2014-2018. Executive Chairman of the International School of Government at King's College, London, 2018-.

Research Projects & Supervisions

Research projects:

Details

Commonwealth Oral History Project Institute of Commonwealth Studies
Project period: 01-Oct-2012 - 30-Sep-2015

Research interests: Colonies & Colonization, emigration & immigration, Communities, Classes, Races, Contemporary History, International Relations, Modern History , Political Institutions

Quantitative Research Skills Training Institute of Commonwealth Studies
Project period: 01-Mar-2013 - 01-Jul-2014

Research interests: Academic Support, Digital resources, Social Sciences

An Oral history of the Modern Commonwelth Institute of Commonwealth Studies
Project period: 19-Oct-2015 - 19-Jul-2016

Research interests: History of art

The Visible Crown: Queen Elizabeth II and the Caribbean, 1952-present Institute of Historical Research
Project period: 01-Aug-2021 - 31-Jul-2022

Research interests: Colonies & Colonization, emigration & immigration, Communities, Classes, Races, Contemporary History

The Windrush Scandal in a trans-national and Commonwealth context Institute of Historical Research
Project period: 01-Jul-2021 - 30-Jun-2024

Research interests: Colonies & Colonization, emigration & immigration, Communities, Classes, Races, Contemporary History

An Oral History of the Modern Commonwealth, 1965-2010

Philip Murphy was Principal Investigator on this 3-year AHRC funded research project which ran from September 2012 to August 2015.

Current PhD topics supervised:

Dates
Details
From: 01-Sep-2014
Until:
'Investigating Hidden Voices in the Struggle for Independence in Northern Rhodesia, 1958-64, with Particular Focus on the Cha Cha Cha Uprising of July-October 1961'

Beatrice Randall. Part-time PhD study, co-supervised by Dr Susan Williams

From: 01-Aug-2020
Until:
Analysis of human rights violations during decolonisation in order to determine the effectiveness of traditional justice and restorative justice legal mechanism and remedies

Carollann Braum. Co-Supervised by Professor David Cantor.

Past PhD topics supervised:

Dates
Details
From: 01-Oct-2012
Until: 30-Sep-2015
Placing knowledge in a decolonizing world: the Commonwealth Fund for Technical Co-operation and histories of expertise for development

AHRC-Funded Collaborative Doctoral Award held by Matthew Battey. Jointly supervised by Dr Ruth Craggs and supported by the Commonwealth Secretariat.

From: 01-Aug-2010
Until: 31-Aug-2016
'From the Organisation of African Unity (AOU) to the African Union (AU): a transition from non-intervention to the right to intervene. A case study of Uganda's interventions in the Great Lakes Region, 1986-2009'

Charles Rukwengye, co-supervised by Dr Leo Zeilig

From:
Until:
'Pursue Counter-terrorism and Prevent Counter-radicalisation: Applying Classical Enemy-centric and Population-centric Approaches in the post-9/11 Context.'

Chamila Liyanage. Co-supervised by Professor Peter Neumann (King's College London).

Professional Affiliations

Professional affiliations:

| Name | Activity |
| --- | --- |
| Colonial and Postcolonial Policing Group | member |
| Commonwealth Democracy Forum | member |

Collaborations:

| Name | Type | Activity | Start date | End date |
| --- | --- | --- | --- | --- |
| Study Group on Intelligence | Research and policy-related network bringing together academics and current and former members of the intelligence community | Termly meetings at the Royal United Services Institute | | |

Relevant Events

Related events:

Date
Details
24-Jun-2020
'Taking Stock of the Commonwealth'

Online conference linking speakers across the Commonwealth with panels on the World after Covid 19, Media Freedom, Threats to Democracy, the Windrush Scandal, Reparations for Slavery and Colonialism, and LGBT+ Rights.

13-Sep-2019
'The Commonwealth and Brexit: A severe case of "Imperial nostalgia"?'

Speaker at conference 'Striking Back? On Imperial Fantasies and Fantasies of Empire' at the Max Planck Institute for the Study of Religious and Ethnic Diversity, Göttingen, Germany.

14-May-2019
'A stolen past? Europe and the compensation of colonial injustice'

Panelist at the Körber Stiftung History Forum, Berlin

17-Jan-2019
'The Empire's New Clothes: thinking about the Commonwealth in the era of Brexit.'

In Conversation with Dr Joanna Lewis, LSE IDEAS and Department of International History (LSE).

17-Sep-2018
'Defining British nationality in the era of decolonisation'

Special lecture in the presence of the British Ambassador, Yonsei University, Seoul, South Korea.

09-Jun-2018
'The Commonwealth of Nations'

Participant on a panel discussion about the Commonwealth alongside Lord Howell, Philip Murphy, Salil Tripathi,Y K Sinha and John Elliott at the ZEE Jaipur Literature Festival at the British Library.

27-Apr-2018
'Foreigners, Friends and Family: The Conservative Party and the Problem of British National Identity since 1945.'

Keynote lecture at the conference 'Contested Borders? Practising Empire, Nation and Region in the Nineteenth and Twentieth Centuries', German Historical Institute, London.

25-Apr-2018
'Imperial Echo'

Interviewed on Radio 4 documentary about the Commonwealth presented by Jonny Dymond.

19-Apr-2018
'The State of the Commonwealth'

Panelist (along with former UK Minister Lord Boateng and former New Zealand Prime Minister, Helen Clark) at special debate at the British Library about the Commonwealth, chaired by BBC journalist Reeta Chakrabarti.

12-Apr-2018
'The Queen: Her Commonwealth Story'

Historical consultant for the BBC 1 documentary presented by George Alagiah.

09-Mar-2017
'Andrew Roth's End of Empire: an unfinished history of decolonization'

Centre for the History of Colonialisms Annual Lecture, University of Kent.

22-Jun-2016
'Rhodes, Reparations and the Future of Imperial History'

Keynote Lecture at the British Scholar Society 'Britain and the World' Conference, King's College London

15-Jan-2016
'Time Come? The Persistence and Future of the Commonwealth Realms.'

Keynote Lecture (delivered remotely) at the International Conference 'The Crown in the 21st Century', Victoria, Canada.

07-Dec-2015
'The Role of the Monarchy in the UK'

The Chevening Christmas Lecture (delivered alongside Professor Robert Hazell), Organised by the Foreign and Commonwealth Office at Queen Mary University of London.

06-Feb-2015
'The Commonwealth Charter'

Presentation to the Commonwealth Parliamentary Association Conference, 'Human Rights in the Modern Day Commonwealth: Magna Carta to the Commonwealth Charter', Houses of Parliament.

28-Aug-2014
British Constitutional Monarchy in the context of the Commonwealth

Workshop on 'Monarchy and Politics' at the Ludwig-Maximilians University, Munich

08-Jul-2014
The Queen's Commonwealth: Monarchy and the End of Empire

Gresham College public lecture

02-Jul-2014
The Long Indian Century: Historical transitions and social transformations

Conference at the Nehru Memorial Museum and Library, Delhi

06-May-2014
'The Accidental Intelligence Chief: Bob de Quehen and intelligence liaison in late-colonial Southern Africa'.

University of Warwick conference, 'Spy Chiefs: Intelligence Leaders in History, Culture and International Relations', at the Palazzo Pesaro Papafava, Venice

10-Mar-2014
The House of Windsor, the British Government and the Commonwealth

Séminaire Histoire du politique dans les mondes Anglophones, Paris Diderot University

14-Jun-2013
The British monarchy and the Commonwealth'

Lecture at the Nehru Memorial Museum and Library, Delhi

01-Jan-2012
The Headship of the Commonwealth

The Making of a Monarchy for the Modern World, Kensington Palace, 6-8 June 2012

01-Jan-2012
Peddling Gossip or Cheating the Censor? An Intelligence Historian writes about the British Royal Family

The British Scholar 'Britain and the World Conference', University of Edinburgh, 22 June 2012

01-Jan-2012
Religious Freedom in the Commonwealth

Workshop on Relgious Freedom in the Commonwealth organised by the Commonwealth Advisory Bureau. Sponsored and hosted by the Canadian High Commission, London, 22 March 2012.

01-Jan-2012
The Monarchy and Empire and Commonwealth

Interview on the Radio 4 documentary series 'The Art of Monarchy'. Broadcast 24 March 2012.

01-Jan-2012
The Queen and the Commonwealth

Interview on the French radio station Outremer Première, for a documentary entited 'God Save L'Empire?', broadcast 25 June 2012.

01-Jan-2012
The British Empire

Interview on Australian ABC Radio National for Rear View documentary entitled 'The British Empire and What Became of it'. Broadcast 3 June 2012.

01-Jan-2012
The Commonwealth in the World: Resistance, Governance and Change

Université Paris Diderot
Institute of Commonwealth Studies / Commonwealth Advisory Bureau
University of London

19 October 2012, 2 - 4 pm, Institut Charles V, Room A 50

Occasional seminar series
The Commonwealth in the World: Resistance, Governance and Change

Leslie James (London School of Economics)
"Writing anti-imperial solidarity from London:
George Padmore and the strategy of anti-colonial resistance"

Followed by a discussion with
Professor Philip Murphy (Institute of Commonwealth Studies)
Intelligence and British Decolonisation




01-Jan-2011
Invited paper

Conference at the University of Northumbria, 'The American and British Relationship with Africa since 1960', 10 June 2011

01-Jan-2011
The British Monarchy and the Post-War Commonwealth

Paper presented to the University of Cambridge World History Seminar, 10 February 2011

01-Jan-2011
Britain and the Commonwealth: Confronting the Past - Imagining the Future

Inaugural Lecture, Beveridge Hall, Senate House, London, 23 February 2011

01-Jan-2011
'"Unstable and Volatile": British perceptions of African nationalist leaders during the era of decolonization

Conference on British Foreign Policy in Africa since 1957, 25 March 2011

01-Jan-2011
The threat of nationalist violence in British Central Africa, 1953-1965

Convenor, speaker and roundtable panellist at conference on The End of The Portuguese Empire in Comparative Perspective, Institute of Social Sciences – University of Lisbon, 20-21 June 2011

01-Jan-2011
The Commonwealth: A unique institution

Commonwealth Secretariat Induction Programme for Commonwealth Diplomats, Farnham Castle, 6 September 2011

01-Jan-2010
Academic organiser

'Negotiating with the "Enemy": perspectives past and present' Workshop on counterinsurgency organised in conjunction with the Open University, 24 September 2010

01-Jan-2010
The Inaugural Commonwealth Conference: Citizenship in the Commonwealth

Cumberland Lodge, Windsor, UK 10-12 November 2010

01-Jan-2010
The Commonwealth Ministerial Action Group

Commonwealth Secretariat Induction Programme for Commonwealth Diplomats, Farnham Castle, 8 September 2010

01-Jan-2009
Invited paper on the Nyasaland Emergency

Open University Conference on Policing and Empire

01-Jan-2009
Invited speaker

Commonwealth Youth Climate Change Conference at Marlborough House

01-Jan-2009
Invited to present paper

Commonwealth History seminar, University of Oxford

Other editing/publishing activities:

Consultancy & Media

Media experience:

Yes
Back to top